¡¡¡¡Before browsing, please download and install the Comic Reader(QJReader) software.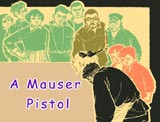 A Mauser Pistol



My Father Deng Xiaoping (3)
Pictured by Ye Xiong

My Father Deng Xiaoping (5)
Pictured by Ye Xiong

A Buffalo Goes to Law
Pictured by Ye Shanlu

Love
Pictured by Wang Guan'qing

The Old Couple
Pictured by Li Chun

Hua Tuo Learning Medicine
Pictured by Tong Jiemei


¡¡¡¡¡õYoung Chinese generations' art works. The teenage authors learned a great deal from the west, and integrated the western drawing skills and styles with Chinese traditional drawing skills.
| | | | |
| --- | --- | --- | --- |
| Spring Outing | Dingxin | In Silence | Beauty and Her Sword |
| | | | |



Face Danger Fearlessly
The original Chinese idiom:
"Lin2 Wei1 Bu2 Ju4": "lin", face; "wei", danger; "bu", no or not; "ju", fear.