¡¡¡¡Before browsing, please download and install the Comic Reader(QJReader) software.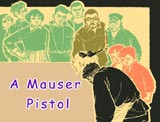 A Mauser Pistol



A Good Deed
Pictured by Gao Baosheng

A Small Mirror
Pictured by Lu Wen

Family
Pictured by Shi Dawei, Han Shuo

Story of a Contact Point
Pictured by Hua Sanchuan

A Cunning Lady in Cairo
Pictured by Jia Wentao

Little Mook
Pictured by Deng Ke


¡¡¡¡¡õYoung Chinese generations' art works. The teenage authors learned a great deal from the west, and integrated the western drawing skills and styles with Chinese traditional drawing skills.
| | | | |
| --- | --- | --- | --- |
| Butterfly | War Reports | Kiss | Old Photo |
| | | | |



Long-Drawn-Out
The original Chinese idiom:
"Kuang4 Ri4 Chi2 Jiu3": "kuang", waste; "ri", day or time; "chi", put off; "jiu", (very) long.