¡¡¡¡Before browsing, please download and install the Comic Reader(QJReader) software.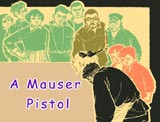 A Mauser Pistol



Mao Zedong on the Way of Long March
Pictured by Shen Yaoyi

Liuhe, the Boy Who Filled the River
Pictured by Dai Dunbang

A Fairy in the Well
Pictured by Zheng Jiasheng

Peony
Pictured by Hua Sanchuan

On the Seaside
Pictured by Dai Dunbang

Doctor, Belle and Alarm
Pictured by Cao Hui


¡¡¡¡¡õYoung Chinese generations' art works. The teenage authors learned a great deal from the west, and integrated the western drawing skills and styles with Chinese traditional drawing skills.
| | | | |
| --- | --- | --- | --- |
| Beast or Man | Butterfly | Music Fan | Cleopatra |
| | | | |


Cornered Beasts Will Still Fight
The original Chinese idiom:
"Kun4 Shou4 You2 Dou4": "kun", cornered; "shou", beast; "you", still; "dou", fight.