¡¡¡¡Before browsing, please download and install the Comic Reader(QJReader) software.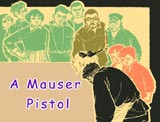 A Mauser Pistol



Captain Grante¡¯s Children (3)
Pictured by Chen Yanfan

Little Mook
Pictured by Deng Ke

Red Stone (8) Welcome the Morning
Pictured by Han Heping, Luo Pan, Jin Kui, Gu Bingxin

The Blue Bird
Pictured by Pan Baozhu

A Legend of Laoshan Mountains
Pictured by Pu Huihua

The No.065 Confidential Document
Pictured by Zhu Guangyu


¡¡¡¡¡õYoung Chinese generations' art works. The teenage authors learned a great deal from the west, and integrated the western drawing skills and styles with Chinese traditional drawing skills.
| | | | |
| --- | --- | --- | --- |
| Joy | Maid | The Five Star Stories | Petal |
| | | | |



Be of Noble Character and High Prestige
The original Chinese idiom:
De2 Long2 Wang4 Zhong4: "De", character; "long", noble; "wang", prestige; "zhong", high. This idiom may also be written as "De2 Gao1 Wang4 Zhong4", and "gao" means "noble".