¡¡¡¡Before browsing, please download and install the Comic Reader(QJReader) software.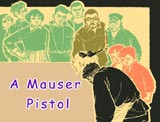 A Mauser Pistol



A Strange Thing
Pictured by Wang Guanqing

Tian Qilang
Pictured by Shui Tianhong

False Barbette
Pictured by Xia Shuyu

A Copper Button (II)
Pictured by Yang Yiling

Snow White Horse
Pictured by He Youzhi

The Quite Don (4)
Pictured by Huang Yunsong,Zhang Changxun,Fu Dongli


¡¡¡¡¡õYoung Chinese generations' art works. The teenage authors learned a great deal from the west, and integrated the western drawing skills and styles with Chinese traditional drawing skills.
| | | | |
| --- | --- | --- | --- |
| Lin Daiyu Bury Flowers 13 | Mechanical Angell | Cool | Cowboy |
| | | | |



Exert Oneself to Make the Country Prosperous
The original Chinese idiom:
"Li4 Jing1 Tu2 Zhi4": "li", hearten; "jing", spirit; "tu", in order to; "zhi", reign (the country).