¡¡¡¡Before browsing, please download and install the Comic Reader(QJReader) software.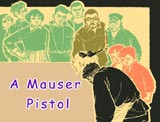 A Mauser Pistol



Emir
Pictured by Gao Baosheng

Red Stone (7) Morning Is Coming
Pictured by Han Heping, Luo Pan, Jin Kui, Gu Bingxin

Major Zalkin
Pictured by Wang Chongyi, Chen Yunhua, Zhang Renkang

Tarzan the Ape Man (2)
Pictured by Huang Yunsong, Zhang Changxun, Pan Honghai, Qian Guisun

The Lovers in the Dragon Palace
Pictured by Liu Wangbin

The Legend of a White Snake
Pictured by Ren Shuaiying


¡¡¡¡¡õYoung Chinese generations' art works. The teenage authors learned a great deal from the west, and integrated the western drawing skills and styles with Chinese traditional drawing skills.
| | | | |
| --- | --- | --- | --- |
| Rest | Dinosaur | Fight Together | Angel |
| | | | |



Follow the Same Old Road to Ruin
The original Chinese idiom:
"Chong2 Dao3 Fu4 Zhe2": "chong", once again; "dao", drive onto; "fu", upset or fall over; "zhe", track. It means to fail again by conducting the same wrongdoings.