¡¡¡¡Before browsing, please download and install the Comic Reader(QJReader) software.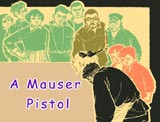 A Mauser Pistol



Prince Wolf
Pictured by Jia Wentao

Ghost Bridegroom
Pictured by Pan Honghai

Dream of Enriching on a Stone
Pictured by Yu Dawu

My Father Deng Xiaoping (6)
Pictured by Ye Xiong

Look after the House
Pictured by Liu Duan

The White-Hair Girl
Pictured by Hua Sanchuan


¡¡¡¡¡õYoung Chinese generations' art works. The teenage authors learned a great deal from the west, and integrated the western drawing skills and styles with Chinese traditional drawing skills.
| | | | |
| --- | --- | --- | --- |
| Girl in the Graveyard | At the Taoye Ferry | Golden-Hair Syren | Warrior |
| | | | |



Follow the Same Old Road to Ruin
The original Chinese idiom:
"Chong2 Dao3 Fu4 Zhe2": "chong", once again; "dao", drive onto; "fu", upset or fall over; "zhe", track. It means to fail again by conducting the same wrongdoings.