¡¡¡¡Before browsing, please download and install the Comic Reader(QJReader) software.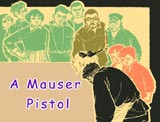 A Mauser Pistol



The Young Yellow Dragon
Pictured by Gu Bingxin

The Quite Don (2)
Pictured by Huang Yunsong,Zhang Changxun,Fu Dongli

Fairy Pearl
Pictured by Liu Wangbin

Gussy and Dessy
Pictured by Hua Sanchuan

A Silk Handkerchief
Pictured by Wang Yiqiu

The Adventure of Rabbige
Pictured by Lu Chengfa, Lu Xiaodi


¡¡¡¡¡õYoung Chinese generations' art works. The teenage authors learned a great deal from the west, and integrated the western drawing skills and styles with Chinese traditional drawing skills.
| | | | |
| --- | --- | --- | --- |
| Go to School | Seeking | Maid | Pollux |
| | | | |



Be There Just to Make Up the Number
The original Chinese idiom:
"Lan4 Yu2 Chong1 Shu4": "lan", cheat or deceive; "yu", a kind of Chinese musical instrument; "chong", make up or fill; "shu", the number.