¡¡¡¡Before browsing, please download and install the Comic Reader(QJReader) software.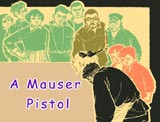 A Mauser Pistol



A Strange Thing
Pictured by Wang Guanqing

Sleeping Beauty in the Pleasure Ground
Pictured by Xie Shuyi

Love
Pictured by Wang Guan'qing

Romance of West Chamber
Pictured by Wang Shuhui

Qing-E
Pictured by Zhang Xiaofei

My Father Deng Xiaoping (5)
Pictured by Ye Xiong


¡¡¡¡¡õYoung Chinese generations' art works. The teenage authors learned a great deal from the west, and integrated the western drawing skills and styles with Chinese traditional drawing skills.
| | | | |
| --- | --- | --- | --- |
| Japanese Girl | Peachblossom | Battleplan | Magic |
| | | | |



Depend on Somebody for A Living
The original Chinese idiom:
"Ji4 Ren2 Li2 Xia4": "ji", depend; "ren", somebody, another person; "li xia", under the fence. It means, "Writing articles imitating others and has no innovation".