¡¡¡¡Before browsing, please download and install the Comic Reader(QJReader) software.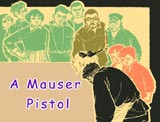 A Mauser Pistol



Two Small Peacocks
Pictured by Gao Baosheng

Story of Yabi and Shanluo
Pictured by Cheng Shifa

Wei Zheng Executed Dragon King
Pictured by Lu Yan'guang

My Father Deng Xiaoping (6)
Pictured by Ye Xiong

Xiao Cui
Pictured by Yang Yuqing

Situ Zhao Sell Country
Pictured by Li Chengxun


¡¡¡¡¡õYoung Chinese generations' art works. The teenage authors learned a great deal from the west, and integrated the western drawing skills and styles with Chinese traditional drawing skills.
| | | | |
| --- | --- | --- | --- |
| Goddes in the Moon and Her Jade Hare | Fox Spirit | Lordofthering 1 | Maid |
| | | | |



Stage A Comeback
The original Chinese idiom:
"Dong1 Shan1 Zai4 Qi3": "Dong Shan", the name of a mountain; "zai", again or once more; "qi", achieve great achievements.