¡¡¡¡Before browsing, please download and install the Comic Reader(QJReader) software.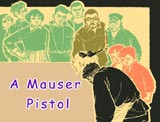 A Mauser Pistol



Story of Gorky---My University
Pictured by Dong Hongyuan

Little Mook
Pictured by Deng Ke

Tian Qilang
Pictured by Shui Tianhong

The Hunchback of Notre Dame
Pictured by Yang Yilin

The Sword of Qin Shi Huang (1)
Pictured by Kong Cheng,Meng Xiang

Zhu Qing
Pictured by Luo Xixian, Qian Zicheng


¡¡¡¡¡õYoung Chinese generations' art works. The teenage authors learned a great deal from the west, and integrated the western drawing skills and styles with Chinese traditional drawing skills.
| | | | |
| --- | --- | --- | --- |
| Broken-Wings Angell | The Vagrant | Happy Spring Festival | Niu Qun(stager) |
| | | | |



Open the Door to Welcome the Robbers
The original Chinese idiom:
"Kai1 Men2 Ji2 Dao4": "kai", open; "men", door; "ji", welcome; "dao", robber or bandit.