¡¡¡¡Before browsing, please download and install the Comic Reader(QJReader) software.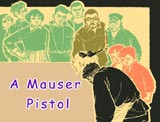 A Mauser Pistol



Water-Kid
Pictured by Huang Guanyu

Wei Pang Eat Ghost
Pictured by Wang Guan'qing

The Soles in the Ore
Pictured by Lu Wen

Wei Zheng Executed Dragon King
Pictured by Lu Yan'guang

Story of Gorky---Childhood
Pictured by Dong Hongyuan

The Gold Hair
Pictured by Lu Wen


¡¡¡¡¡õYoung Chinese generations' art works. The teenage authors learned a great deal from the west, and integrated the western drawing skills and styles with Chinese traditional drawing skills.
| | | | |
| --- | --- | --- | --- |
| Dancing | The Complex | Cute Bear 2 | Is You Girl? |
| | | | |



Open the Door to Welcome the Robbers
The original Chinese idiom:
"Kai1 Men2 Ji2 Dao4": "kai", open; "men", door; "ji", welcome; "dao", robber or bandit.