¡¡¡¡Before browsing, please download and install the Comic Reader(QJReader) software.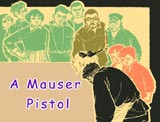 A Mauser Pistol



The Story of Horse-Head-Shaped Qin
Pictured by Cheng Shifa

Lenin in the October Revolution
Pictured by Gu Bingxin

Water-Kid
Pictured by Huang Guanyu

Twenty Thousand Leagues Under the Sea (I)
Pictured by Huang Yunsong

Greed Spring
Pictured by Lu Yan'guang, Meng Fudan

Zhuge Liang
Pictured by Xu Youwu


¡¡¡¡¡õYoung Chinese generations' art works. The teenage authors learned a great deal from the west, and integrated the western drawing skills and styles with Chinese traditional drawing skills.
| | | | |
| --- | --- | --- | --- |
| Love 2 | Afternoon Tea | Man and Dog | Chinese Baby |
| | | | |



Take a Drastic Measure to Deal with A Situation
The original Chinese idiom:
"Fu3 Di3 Chou1 Xin1": "fu", caldron; "di", bottom; "chou", take out; "xin", firewood.