¡¡¡¡Before browsing, please download and install the Comic Reader(QJReader) software.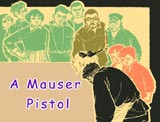 A Mauser Pistol



Qing Feng
Pictured by Yin Yanjiang

Li Shimin, the Second Emperor of Tang Dynasty
Pictured by Xiang Weiren

A-Bao
Pictured by Zhang Wei

Zhang Hongjian
Pictured by Zhang Xiwu, Zhang Rongzhang

Fugitive
Pictured by Pan Honghai

Xiao Cui
Pictured by Yang Yuqing


¡¡¡¡¡õYoung Chinese generations' art works. The teenage authors learned a great deal from the west, and integrated the western drawing skills and styles with Chinese traditional drawing skills.
| | | | |
| --- | --- | --- | --- |
| The Turquoise | Orchis in Gulf | David Beckham | Long March |
| | | | |



Depend on Somebody for A Living
The original Chinese idiom:
"Ji4 Ren2 Li2 Xia4": "ji", depend; "ren", somebody, another person; "li xia", under the fence. It means, "Writing articles imitating others and has no innovation".