¡¡¡¡Before browsing, please download and install the Comic Reader(QJReader) software.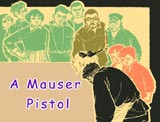 A Mauser Pistol



Wang Zhe
Pictured by Wang Hongli

The Mysterious Island (II)
Pictured by Huang Yunsong

A Buffalo Goes to Law
Pictured by Ye Shanlu

Da Yu Controlling the Floods
Pictured by Gao Shi

Hua Tuo Learning Medicine
Pictured by Tong Jiemei

A Sound of Shooting in an Ancient Castle
Pictured by Pan Honghai


¡¡¡¡¡õYoung Chinese generations' art works. The teenage authors learned a great deal from the west, and integrated the western drawing skills and styles with Chinese traditional drawing skills.
| | | | |
| --- | --- | --- | --- |
| Beauty | Alme | Princess Peacock | Sit |
| | | | |



Face Danger Fearlessly
The original Chinese idiom:
"Lin2 Wei1 Bu2 Ju4": "lin", face; "wei", danger; "bu", no or not; "ju", fear.