¡¡¡¡Before browsing, please download and install the Comic Reader(QJReader) software.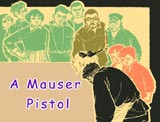 A Mauser Pistol



Twenty Thousand Leagues Under the Sea (I)
Pictured by Huang Yunsong

A Buffalo Goes to Law
Pictured by Ye Shanlu

Hua Tuo Learning Medicine
Pictured by Tong Jiemei

Snow White Horse
Pictured by He Youzhi

The Panther-Man
Pictured by Zhao Qi

Water-Kid
Pictured by Huang Guanyu


¡¡¡¡¡õYoung Chinese generations' art works. The teenage authors learned a great deal from the west, and integrated the western drawing skills and styles with Chinese traditional drawing skills.
| | | | |
| --- | --- | --- | --- |
| Don't Peek | Bookmark | Peace | Lost |
| | | | |



Each Has A Role to Play
The original Chinese idiom:
"Ge4 De2 Qi2 Suo3": "ge", each; "de", have or get; "qi suo", the suitable things to do.