¡¡¡¡Before browsing, please download and install the Comic Reader(QJReader) software.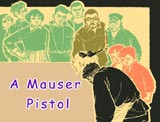 A Mauser Pistol



The Lovers in the Dragon Palace
Pictured by Liu Wangbin

Hypocrite
Pictured by Sun Yu

Qin Shi Huang
Pictured by Yang Yuqing,Hu Bozong,Pan Xiaoqing

Robinson Crusoe
Pictured by Huang Yunsong

The Secret of Old Pagoda Tree
Pictured by Chen Guangyi, Sheng Liangxian, Wang Yiqiu

A Silk Handkerchief
Pictured by Wang Yiqiu


¡¡¡¡¡õYoung Chinese generations' art works. The teenage authors learned a great deal from the west, and integrated the western drawing skills and styles with Chinese traditional drawing skills.
| | | | |
| --- | --- | --- | --- |
| My Goddess | Garden of Curse | Headgear | Time |
| | | | |



Old But Vigorous
The original Chinese idiom:
"Lao3 Dang1 Yi4 Zhuang4": "lao", old; "dang", should be; "yi", much more; "zhuang", strong or vigorous.