¡¡¡¡Before browsing, please download and install the Comic Reader(QJReader) software.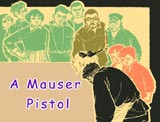 A Mauser Pistol



Laite Brothers
Pictured by Li Jia, Gao Baosheng

Favor and Hatred
Pictured by Lu Yan'guang

Situ Zhao Sell Country
Pictured by Li Chengxun

Love
Pictured by Xia Shuyu,Ling Tao

The White-Hair Girl
Pictured by Hua Sanchuan

The Stories of A-Q (2)
Pictured by Cheng Shifa


¡¡¡¡¡õYoung Chinese generations' art works. The teenage authors learned a great deal from the west, and integrated the western drawing skills and styles with Chinese traditional drawing skills.
| | | | |
| --- | --- | --- | --- |
| Fairy Butterfly | Fairies | Reading | Sea Goblin 2 |
| | | | |



A Much Visited House
The original Chinese idiom:
"Men2 Ting2 Ruo4 Shi4": "men", gate or door; "ting", hall; "ruo", like; "shi", market or bazaar. It means that there are many people around the house.